Here's something odd: there is a cat hovering in the men's bathroom at the radio station here. He seems perfectly happy and healthy, but it's floating about four feet off the ground next to the sink.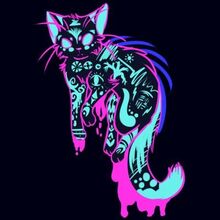 Khoshekh Gershwin-Palmer[2][3] is a floating cat who resides about four feet above the ground next to the sink in the men's bathroom of the Night Vale Community Radio Station.
History
He appeared in the men's bathroom during the episode 2 and was adopted soon after as the station pet. He purrs and rubs on your hand like a normal cat, but is trapped in a floating prison and cannot travel. Cecil admits that while he is normally not a cat person, he has grown to love the cat, which has been named Khoshekh. The men of the station care for Khoshekh by leaving the sink running so that he has drinking water. They also take turns buying Science Diet Low-Calorie Cat Food for the immobile feline, which they leave on the counter where he can easily reach it.
As of Episode 159, "Cat Show", Khoshekh is stated to have white socks, black tails, spine ridges, tentacles, pincers, wings, a stinger, more than two eyes, and five rows of teeth. He is able to produce both ordinary feline mews and low, guttural growls.
In the two-year anniversary live show, it is revealed that Cecil, being one of the few who actually cares about Khoshekh, has taken to carving sculptures of the beloved "Feline", and posting said sculptures on his Tumblr blog. The Tumblr URL is currently unknown (or may not exist in real-world Tumblr), and no pictures of said sculptures have been found.
Due to the fact that Cecil is Jewish (according to Joseph Fink, as of "Ghost Stories"), Khoshekh's name is a Hebrew word- חושך, meaning "darkness".
Mentions
Khoshekh's Kittens
Despite being a tomcat, Khoshekh gave birth to a litter of kittens in Episode 23, "Eternal Scouts". They were all adopted by Episode 26, "Faceless Old Woman", but, since they cannot be removed from the station men's room, their owners must visit them there. Like Khoshekh, they are floating in the station men's room, but at different heights. It is not clear how many kittens there are.
Some known named kittens (and their owners) are:
Anissa, has tortoise shell fur
Jeremiah, aka Larry Leroy (owned by Larry Leroy (out on the edge of town))
Rafael, has tortoise shell skin. Adoptive name is Mixtape (owner unknown), though he prefers his adoptive name over his given name.
Physical Features
Khoshekh's features cycle in and out, they never have all their features at once.
"I sometimes I have wings, or even tentacles" - Silas, 196 - Silas the Thief, Part 2
White socks
Slight chub
Poisonous kitty spine ridges
Tendril hubs
Venom sacks
Poisonous claws that inflict Tetanus
Tongues on chest
Visible skull
Elegant black tail ("like an overused feather duster")
Floofy, black, and slimy tentacles
Squishy faced
Mostly long-haired, but short-haired along his caudal spine and pincers
Multiple tails
Multiple eyes (possibly 8), allow 360-degree clarity
Nacreous scales
Five rows of teeth
Wings
Fur is mostly needle-sharp quills
Skin, hard and scaly, almost armor-like
Pointy ears
Stinger
Trivia
The character was created by Jeffrey Cranor. [4]
Khoshekh means "darkness" in Hebrew and was one of the ten plagues of Egypt in the story of Exodus. The Hebrew חֹשֶׁךְ or חושך is pronounced "choshech" (ch as in challah) (emphasis on the first syllable), different from how Cecil pronounces Khoshekh.
Кошак [

Koʃʌk

] is a recent colloquial expression for "male cat" in Russian. Its pronunciation is slightly different from how Cecil pronounces "Khoshekh" (the emphasis in the Russian word is on the last syllable: ko-SHUCK). "Khoshekh" (as Cecil pronounces it) in Russian would mean "кошек", gen.pl. or acc.pl. from "кошка" 'cat' (so, it would mean "of the cats" or "them cats").
References